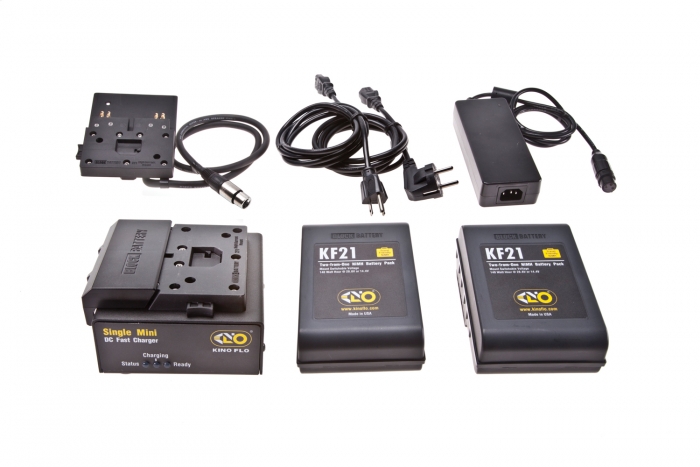 Block/KF21 Double Battery System, 140Whr, 28.8V (2 x Battery)
Manufacturer: Kino Flo
Product Code: SYS-BK12
Kino Flo Lighting Systems partners with BlockBattery for newly introduced KF21 (NiMH) battery systems for its LED line. The Kino Flo/BlockBattery systems are designed to work with the following Kino Flo LED products with DC capability: Celeb 250 LED DMX Diva-Lite 20 & 30 LED DMX FreeStyle 31 & 21 LED DMX Select 20 & 30 LED DMX.
The KF21 battery can power 28.8V (20-34VDC) applications. Run time for Kino Flo products listed above is approximately 1 hour and 10 minutes at full brightness. When fixtures are dimmed, the battery will last longer.
Charge time is only 1.5 hours versus Lithium batteries that take approximately 4 hours to fully charge. Unlike lithium batteries, the Kino Flo/BlockBattery is travel friendly with no travel restrictions. In addition to powering 28.8V, battery adapters may be used to access 14.4V to be used with products with 14.4V input. It's like having two batteries for the price of one!
NiMH safety advantage for shipping/travel
Fast Charge (1.5h vs 4h for Lithium Ion) – Less batteries required
Only 1 battery needed instead of 2 to run a Kino Flo fixture
28.8V battery but can get used with 14.4V products (adapter needed)
140Whr (run time on Kino Flo AC/DC LED products up to 1h and 10min at full power)
SYS-BK12 Components:
2x BAT-KF21 Block/KF21 Battery, 140Whr, 28.8V NiMH
1x BAT-BC1U Block/KF21 Single Fast Charger w/ Universal Pws
1x BAT-MM1 Block/KF21 Mafer Mount 28.8V, 3-Pin xlr, 3ft

Battery BAT-KF21
WHR: 140WHR, 5.0A @ 28VDC
Dimensions: 15 x 11 x 8cm
Weight: 2.0kg
Type: NiMH
Charger BAT-BC1
Input Voltage: 48VDC, 3.0A
Dimensions: 14 x 14 x 9cm
Weight: 1.0kg
Power Supply PWS-120W-48X
Input Voltage: 100-240VAC, 50/60Hz 1.4A
Output Voltage: 48V, 2.5A 120W Max
Dimensions: 16.5 x 6.5 x 4cm
Weight: 1.0kg
If you would like any more information on our products, please drop us an email or call us on:
+44 (0) 20 8955 6700