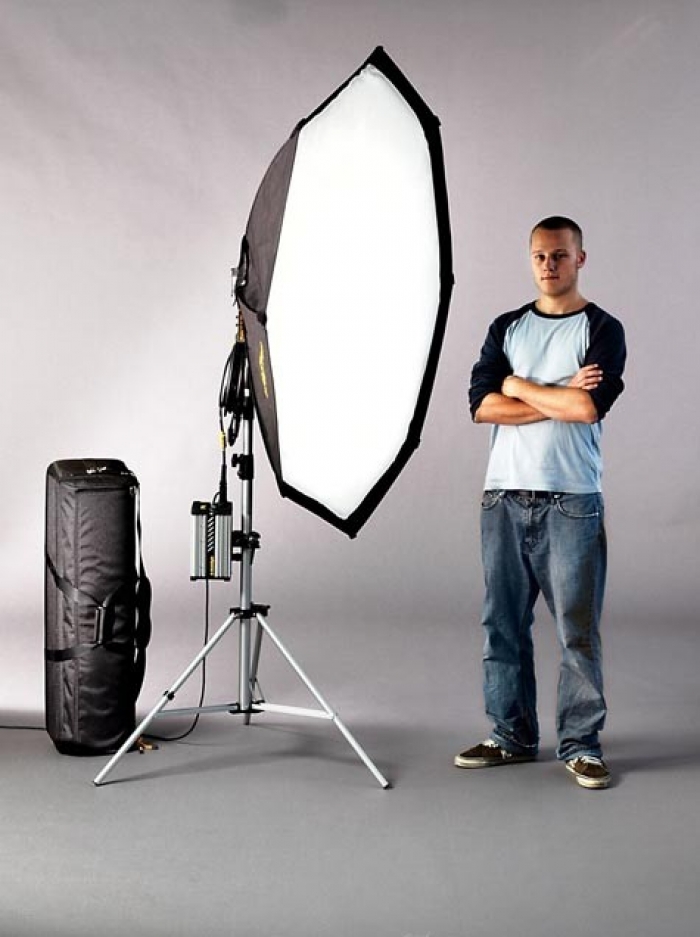 SPA5DT-B Standard PanAura 5 Daylight
Manufacturer: Dedolight
Product Code: SPA5DT-B
This large soft light kit can be found in abundance on the shelves of lighting rental companies, and is a testament to its popularity with serious image makers and Directors of Photography. If you are looking to make outstanding images this is an invaluable tool.
The SPA5DT-5 Kit comes with a 400/575W MSR daylight soft light, both fitted with a larger mounting yoke which allows the use of the larger soft boxes.
Diameter changeable in four steps: 150 mm (5,9 "), 170 mm (6,69"), 190 mm (7,48") or 210 mm (8,26 ").
• 1 DLH400SDT Soft light head, 400/575 W daylight/tungsten
• 1 HTP400S High temperature pouch for DLH400S
• 1 DEB400DT flicker free ballast, 400/575W
• 1 DPOW400DT Light head cable (to ballast)
• 1 DEB400H Ballast holder w/ super clamp
• 1 DLPA5 dedolight PanAura/Octodome 5
• 2 DL400HR 400/575W daylight lamp (clear)
• 1 DST400S Dedolight stackable stand, small
• 1 DSCPA5 Soft case for PanAura/Octodome 5 kits
Daylight Head
• Weight: 1.575kg (7.5 lb.)
• Lamp: 400/575w Max
• Cable length 7 m (23')
• Mounting: 16 mm (5/8 ") two axis receptacle and 28 mm (1 1/8 ") stud
• Safety: Protective glass tube with safety switch
• Dimming 40%
If you would like any more information on our products, please drop us an email or call us on:
+44 (0) 20 8955 6700