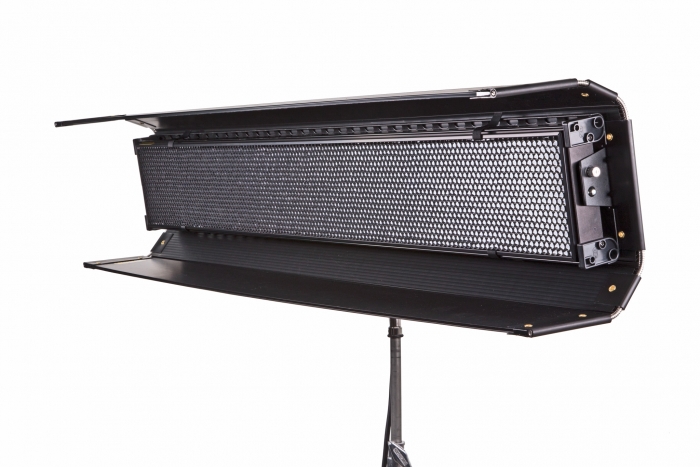 FreeStyle 41 LED Fixture
Manufacturer: Kino Flo
Product Code: CFX-F41
The FreeStyle LED Fixture includes built-in barndoors and is comprised of a removable LED panel and Louver. The Louver is held in place with Velcro fasteners. The LED panel can be removed from the fixture housing by pressing the locking pin and turning the thumbscrew. The fixture has a twist-on mating plate to accept a twist-on mount. The LED panel also has a twist-on mating plate to accept a removable twist-on mount and has molded corners for additional rigging options.
One of the design features of the FreeStyle LED Fixture is the twist-on removable Center Mount. When it's on, the fixture mounts easily to a light stand; when it's off, the fixture is flat and can be hand-held, or hidden in a space too small to place a stand-mounting fixture. When the mount is removed, the grommet holes along the edge of the fixture are designed to allow the fixture to be screwed onto a wall or ceiling through its eyelets.
The FreeStyle removable LED panel also has its own mating plate to accept the twist-on mount plate. The LED panel can be hand-held with the KinoGrip mount and also has molded corners as rigging points for rope hanging, for example.
Fixture: FreeStyle 41 *
Kelvin Range: 2700~6500, 2500~9900
Dimming Range: 100%~1%
Dimensions: 133.4 x 22.9 x 10.2cm w/ 15.3cm barndoors (52.5 x 9 x 4" w/ 6" barndoors)
Weight: 7.3kg (16 lb)
*Note: When LED panel is removed from plastic housing:
FreeStyle 41 Panel Only: 125.7 x 19.1 x 6.4cm (49.5 x 7.5 x 2.5"), 4.4kg (9.6 lb)
If you would like any more information on our products, please drop us an email or call us on:
+44 (0) 20 8955 6700