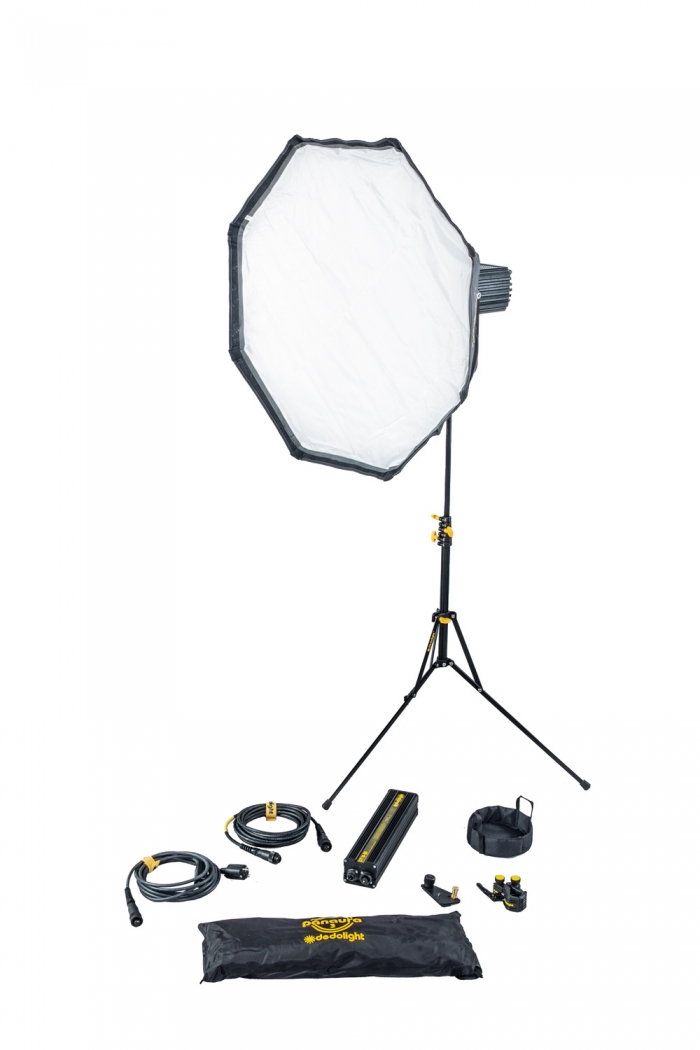 Ledraptor 3 Octodome LED system, Bi-colour
Manufacturer: Dedolight
Product Code: SYS-DLRAP3PA3-BI
LEDRAPTOR – The Concept
Our LED soft light – Panaura experience translated and refined in the LED world. High light output, high efficiency, optimum light distribution. Slim / flat construction, also useful in hanging application in rooms with low ceilings. Perfect color rendition, beautiful skin tones.
These lights can be used on their own for beautiful mood lighting, very gentle and subtle, but they can also serve in combination with structured light as we offer with our focusing lights and with the entire range of reflected light – dedolight Lightstream. For such scenic lighting with a structured character the Ledraptor lights offer a gentle mix, even with fine nuances of color temperature, to create
and perceive magic. Amazing moods, even in very subtle, hardly noticeable ways.
2 Light sources = 1 Light source
We talk about 2 x 220 W, but we have only one light source. On this light source we have a multitude of daylight LEDs, and like on a chess board also a multitude of tungsten LEDs.
220 W daylight and at the same time 220 W tungsten. Allowing continuous change of color temperature from 2700K to 6500K.
All with one single button or by DMX control (even with additional adapter for wireless operation). Color quality is the best that is achievable in today's LED technology.
High light output
High efficiency
Even light distribution
Slim construction
Perfect color rendition
Dimmable continuously without any change of color quality
Color temperature adjustable from 2700K all the way to 6500K
SYS-DLRAP3PA3-BI System consists of:
| | |
| --- | --- |
| DLRAP3-BI | LED soft light, 2x 220W bicolor, with speedring for Panaura 3/5 domes. |
| DLRAP3-P | Transport cover for Ledraptor 3 LED soft light |
| DPOW10 | Cable, light head to power supply, 7 m (23') |
| DT10-BI | Power supply for LEDRAPTOR 3 bicolor |
| DLPA3 | dedolight Panaura 3. Complete Panaura dome with all diffusers. |
| DCAB3A-SW | Separate AC power cable for DLH652T and DLED12 lights (optional for DLEDRAMA panel) with built-in ON/OFF switch, 5m, European connector |
Technical Data: DLRAP3-BI light head
Power consumption: 220W
Colour temperature: 2700-6500K
CRIa: (3200K) 96, (5600K) 97
TLCI: (3200K) 97, (5600K) 96
Technical Data: DT10-BI power supply
Mains Voltage: AC 90-264V / 50-60HZ
Max. Power: 256 VA
Protection Class: IP20
Size: 376mm (L) x 84.4mm (W) x 74mm (H)
Weight: 2.4kg (5.3lb)
If you would like any more information on our products, please drop us an email or call us on:
+44 (0) 20 8955 6700