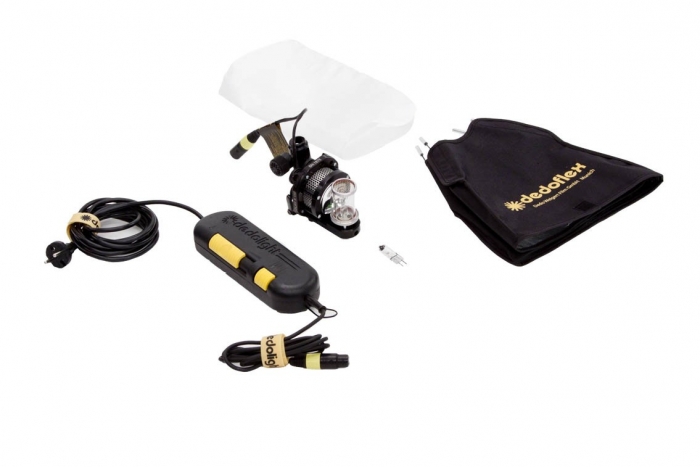 150w Soft complete system
Manufacturer: Dedolight
Product Code: SYS-150S-XS
Don't let the small size and low wattage deceive you!
Because of the high light output of the low voltage lamp coupled with the positioning of the lamp into the optical centre of the softbox, this efficient compact fixture performs surprisingly well as an interview soft key or fill light.
Built to Dedolights exacting standards, this soft light uses the same power supplies as the focusing DLH4 light head. When used with a 12 volt lamp it will also work with battery power.
Built in adjustable speed ring adapts to many soft boxes in seconds. System comes with the DSBSXS (30cm x 30cm) soft box. Also works well with the DSBSS (41cm x 56cm) Softbox.
• 1 DLH1x150S Soft light head, 100W/150W tungsten
• 1 DSBSXS Dedoflex mini soft box, silver
• 1 DT24-1E Power supply 1 x 24V/150W (230VAC)
• 1 DL150C 24V 150W Halogen lamp Clear
Head can operate 12v or 24v with cable accessories
• DT24-1E (230/240 V AC input)
• Output: 0 V – 24 V/150 W max.
• Controls: Variable functions switch for:
o ~ 3400 K (maximum output)
o ~ 3200 K
o Continuous dimming from Maximum to minimum

If you would like any more information on our products, please drop us an email or call us on:
+44 (0) 20 8955 6700