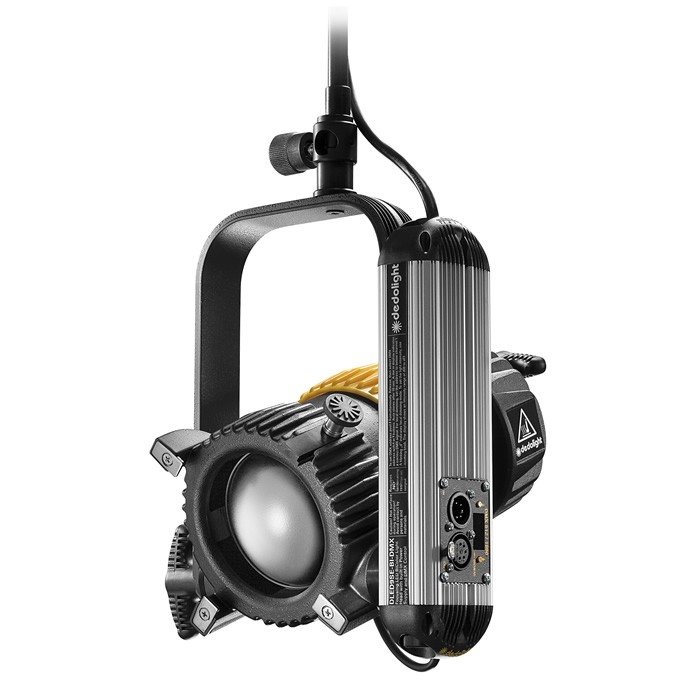 90W Focusing LED light head, bi-colour incl. DMX power supply, studio edition
Manufacturer: Dedolight
Product Code: DLED9SE-BI-DMX
dedolight DLED9 LED
Powerful & versatile
Dedolight have combined their award winning optical system with their own colour correct LED technology to come out with yet another beautifully engineered award winning lighting fixture. Certainly the best in class!
• Bi-Colour Daylight/Tungsten variable colour correct LED 90w source
• Continuous dimming with no colour shift.
• With DMX intergrated Ballast and 16 mm (5/8") yoke fitting
• Passive cooling (No Fan)
Dedolight Patented Aspheric Optics in combination with specially developed LED light sources in daylight and bicolor variations. This model is mainly for studio applications special effects.
DBD400
Barn door for DLH400, DLH650, DLED9 series
DP400KU
Imager projection attachment, universal
DP400KFS
Imager projection attachment, framing shutter
If you would like any more information on our products, please drop us an email or call us on:
+44 (0) 20 8955 6700