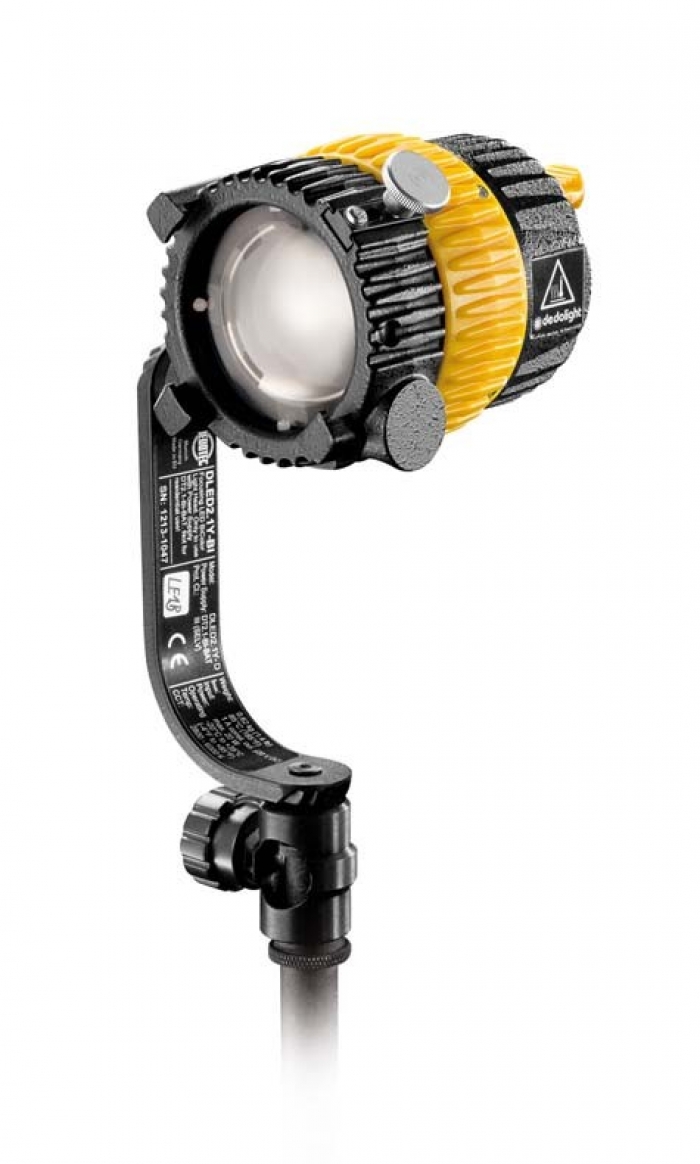 20W LED daylight head with yoke
Manufacturer: Dedolight
Product Code: DLED2Y-D
DLED2 LED – small, powerful, versatile

Focusing 20 W LED daylight light head with yoke and 16 mm (5/8") receptacle.
Separate DT2.x-BAT electronics needed.
Dedolight Patented Aspheric Optics in combination with specially developed LED light sources in daylight and bicolor variations. For use as on-board or off-board light, multi-functional and versatile as tiny interview and documentary lighting, for accents and special effects.
Focus Range (Intensity Range): 50° - 5° (1:7)
Focus Control: 3/4 turn on focus ring
Power: 25 W, 6 - 18 V DC
Mounting: 5/8" (16 mm) receptacle and 1 1/8" (28 mm) stud OR: optional with shoe mounting (e.g.: DLED2HSM-BI) OR: with yoke and separate power supply (e.g.: DLED2Y-BI)
Operating Position: Any, except electronics directly over light head
Tilt Control: Adjustable friction
Accessory Holder: Ø 2.3" (58 mm)
Safety: Protection Class III, SELV, IP40
Cooling: Passive cooling (no fan)
UV: No UV radiation
Weight: 800 g (1.8 lb)
Size: W: 79 mm (3.1"), L (flood): 149mm (5.87"), L (spot): 149 mm (5.87"), H: 142 mm (5.6")
If you would like any more information on our products, please drop us an email or call us on:
+44 (0) 20 8955 6700